Welcome to the Bavarian Inn Restaurant Press Room for Dorothy Zehnder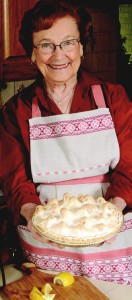 She started working before World War II, when the restaurant was still called Fischer's, and she was only 16.  Now in her 90s, Dorothy Zehnder continues her daily work in the kitchen of the world-famous Bavarian Inn Restaurant in Frankenmuth, Michigan.
Restaurant co-founder Dorothy Zehnder is still very active in the business, spending many hours in the kitchen, throughout the week. Dorothy is the matriarch of all things Bavarian Inn — Restaurant, Lodge, Shops, Online merchandising and specialty foods.
Furthermore, she has released two cookbooks to spread what she learned from her 60 plus years with Bavarian Inn to kitchens everywhere. Her first, "Come Cook With Me," was released in 2011 and serves as both a cookbook and autobiography, featuring a rich collection of stories and recipes. Her second cookbook was released three years later in 2014. Called "From My Kitchen to Yours," this book features 195 hand-picked recipes from Dorothy and her family.
The Bavarian Inn Restaurant now has the fourth generation of its family involved in operations. In fact, they have made a business decision to be the largest restaurant user of Michigan agricultural products and they are successfully achieving this goal day in and day out. The Bavarian Inn has held its own, despite Michigan's economic struggles. While the restaurant and travel industry continues to experience hardship, Bavarian Inn is bucking the trend and remaining profitable.  It is among the top 10 restaurants in the nation.  That's a story itself!
We invite you to download the press releases, photos and captions here.
Questions and media interview requests contact:
Sue Voyles
sue@logos-communications.com
734-635-3831